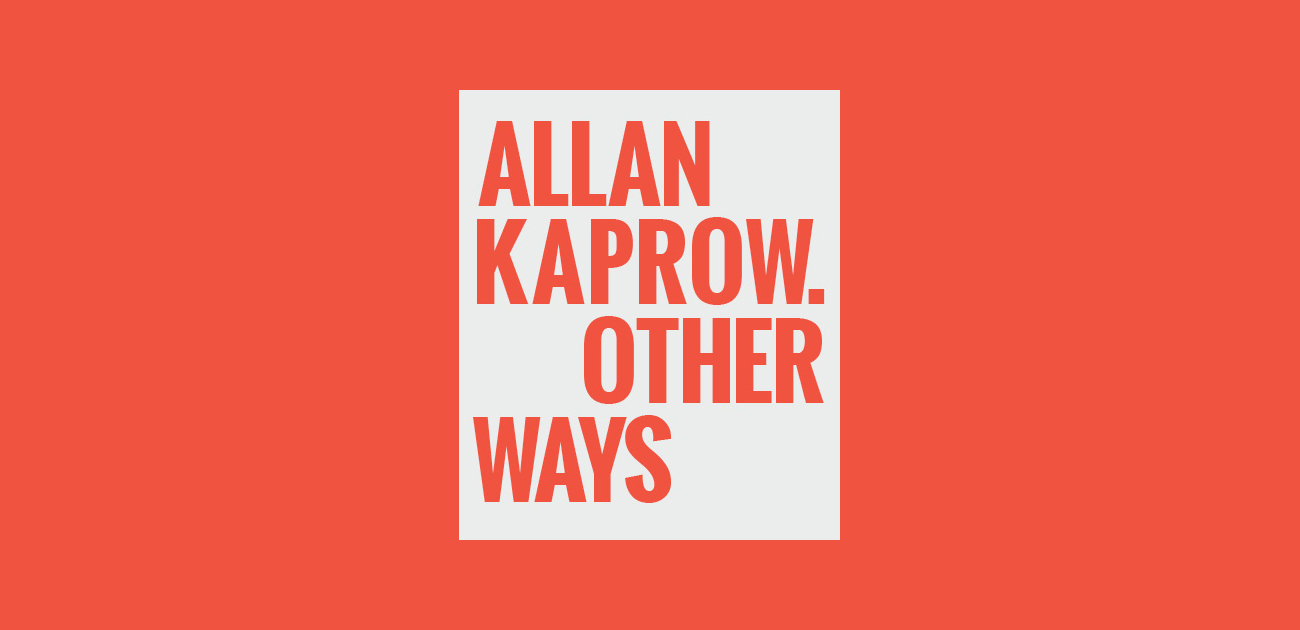 Allan Kaprow & Herbert Kohl, Other ways project
Pedagogy and the counter culture
MARGINAL NOTES
[1]
Theodore Roszak, The Making of Counter Culture: Reflections on the Technocratic Society and Its Youthful Opposition, Oakland, University of California Press, 1968-1995.
[2]
Allan Kaprow's personal archives, Getty Research, Los Angeles.
[4]
Jeff Kelley, Childsplay: The Art of Allan Kaprow, Los Angeles, University of California Press, 2004, p.142.
[5]
John Dewey cited by Jeff Kelley, op. cit., p.142.
[6]
Unpublished interview conducted by critic and feminist Moira Roth in Pasadena in 1973 and conserved in Kaprow's personal archives at Getty Research.
[7]
Concept he will develop throughout the three-part series from 1968 to 1973, The Education of the Un-artist.
[8]
Unpublished interview conducted by critic and feminist Moira Roth.
[10]
Jeff Kelley citing Allan Kaprow, op. cit.., p.158
[11]
Margaret Mahoney from Carnegie offers him a grant to experiment with pedagogy, with the added requirement that Allan Kaprow also design and guide a training program for the teachers. See Herbert Khol, The Discipline of Hope, Learning from a Lifetime of Teaching, The New Press, New York, 1998.
[12]
Géraldine Gourbe, In The Canyon, Revise The Canon : Savoir utopique, pédagogie radicale et artist-run community art place space, Rennes, ESAAA/Shelter Press, 2015.
[13]
Jeff Kelley, op. cit., p.143.
[14]
Herbert Khol, The Discipline of Hope, op. cit., p.275.
[17]
Paulo Freire, Pédagogie des opprimés, Paris, François Maspero, 1974.
[18]
Noah Purifoy was the curator of one of the first exhibitions on Junk Art, in 1967, which included, amongst others, black artists such as Bettie Saar and himself.
[19]
http://history.berkeley.edu/sites/default/files/Learning%20from%20Watts%20Towers.pdf
[20]
Allan Kaprow "Success and Failure When Art Changes" in Suzanne Lacy, Mapping the Terrain: New Genre Public Art, Seattle, Bay Area Press, 1995, p.154-160.
[21]
Such as the insult "Fuck".
[22]
Judith Delfiner, Double-Barrelled Gun – Dada aux États-Unis (1945-1957), Dijon, Les Presses du réel, 2011.
[23]
Maxime Cervulle, "Penser la blanchitude. Dynamiques épistémologiques" in Dans le blanc des yeux. Diversité, racisme et médias, Paris, Éditions Amsterdam, 2013, p. 47-74.
[24]
Jeff Kelley, op. cit., p.155.
[25]
Allen Ginsberg was a founding member of the Beat Generation. See Philippe-Alain Michaud, Beat Generation, New York, San Francisco, Paris, Centre Pompidou, 2016.
[26]
Hippie Modernism: A Struggle for Utopia, Minneapolis, Walker Art Center, 2015.
[27]
Andrew Blauvelt, "Hippie Modernism: Aesthetic Radicalism and Counterculture" in Hippie Modernism: A Struggle for Utopia, op. cit., http://www.walkerart.org/feature/2015/aesthetic-radicalism-counterculture
[28]
While participating in Other Ways, Sim van der Ryn was targeted by the police, particularly People's Park, his collaborative project developed in the Bay Area. The project was to create an eco-village based on the life forces of the Free Speech Movement, which had multiplied on the Berkeley university campus between 1964 and 1965. Following the arrest of student Jack Weinberg, a political activist on campus, a crowd of students blocked a police vehicle for 32 hours and demanded freedom of expression at the university, including for political activists. The movement took over and changed how teaching is conducted at universities.
[29]
Lorraine Wild cited by Andrew Blauvelt, op. cit.
[30]
Jeff Kelley, op. cit., p.145.
[31]
Activities, contrary to happenings, are actions that, according to Allan Kaprow, are less theatrical, less monumental or spectacular, and more directed at experiencing a performative task, in a small group. The idea of public or event disappears to make room for experimentation and feedback between participants. Their more confidential nature had an impact on Allan Kaprow's more tenuous current events.