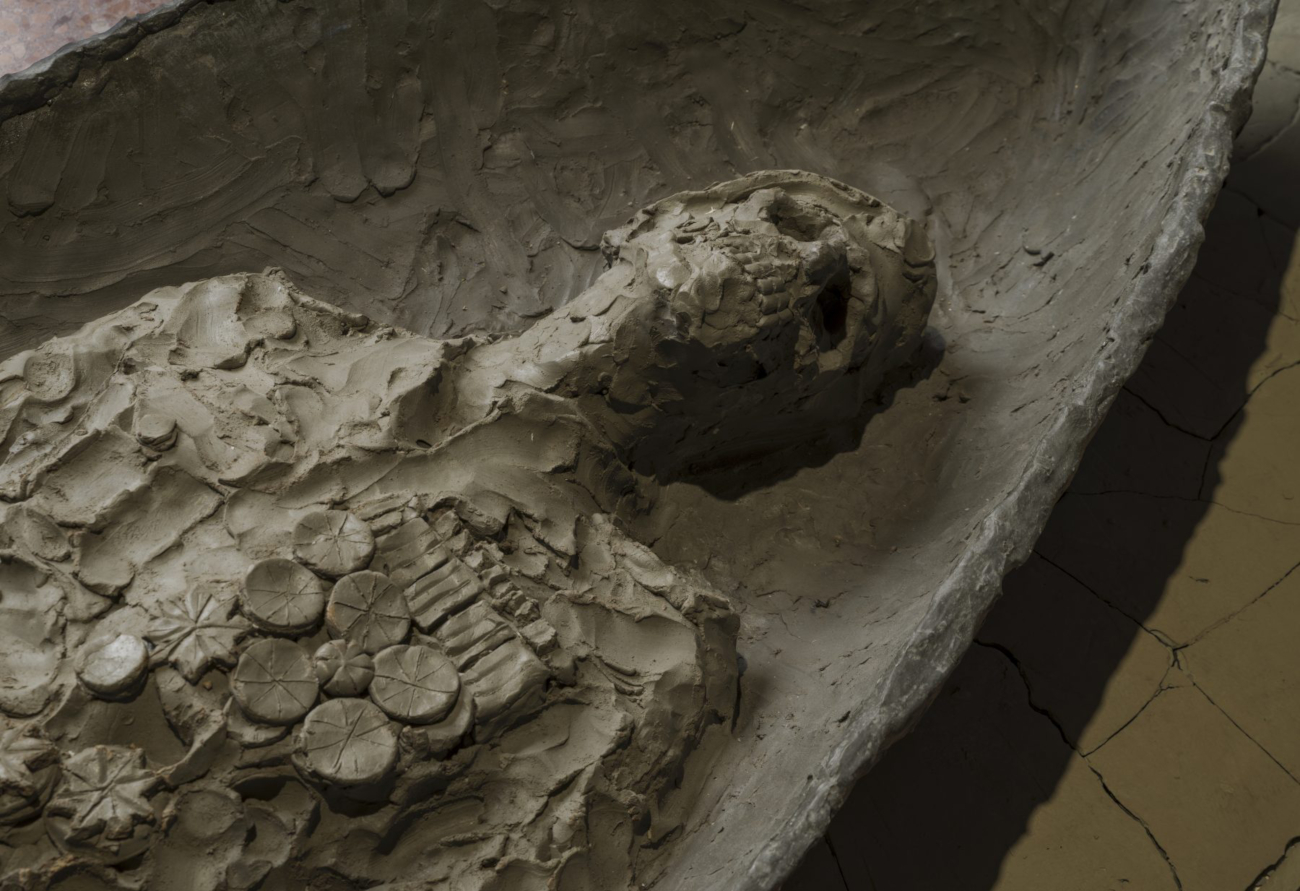 For the first time, at this year's Venice Biennale, the Iraqi pavilion, which until recently featured a variety of practices and generations of artists, opted for a single representative, the Kurdish artist Serwan Baran. His exhibition Fatherland consisted of two visceral pieces, haunted by the wars ravaging Iraq for the last 47 years. Like a contemporary Otto Dix, the artist takes radical distance from the war imagery used in the media, illustrating these disasters from his own point of view instead, that of a former soldier.
At the end of a narrow hall draped in military fabric, the visitor discovers The Last General, a life-sized sculpture violently carved out of gray clay. It represents the partially decomposed cadaver of a general—his medals are still visible—lying in a small boat that serves as a kind of sarcophagus. In the second exhibition room hangs an immense painting entitled The Last Meal that occupies the entire back wall. It depicts a bird's-eye-view of lifeless soldiers' bodies, piled and curled up in fetal position. Hit by a bomb as they were sharing their final meal—a strong symbol of co-existence—their twisted faces are frozen in their final expression: the wide-open mouth of screaming in terror. The artist has stuck bits of plastic plates to the canvas and hung shreds of uniforms, real-life vestiges that he collected from the families of deceased Iraqi soldiers.
These profoundly dark pieces are all the more poignant in that they are an account of Serwan Baran's own experience. In a recent interview, he explains the necessity to shake up the visitor: "Iraq has been at war for 47 years, and I am 50 years old. I want visitors to feel shocked as they enter the exhibition, and to understand what it means to have lived a lifetime of relentless and never-ending conflict"
Two years after he was born in Baghdad in 1968, the first armed conflict exploded between the Iraqi army and the first Kurdish rebellion. It was followed by the Yom Kippur War (1973), then the Iran-Iraq War (1980-1988) during which time the artist, forced to enlist, became a soldier. Eight years later, he endured the first Gulf War as an army artist, in service of dictator Saddam Hussein's official propaganda. His task was to portray the victories on the front and magnify their heroes (portraits in homage to generals as well as to Saddam Hussein). The chaos in Iraq doesn't end there, extended afterwards by the American invasion in 2003, followed by sectarian violence until the recent conflict with the Islamic State.
Devastated by these images of unceasing carnage, it wouldn't be until 2005, date of his departure to Beirut where he currently works, that his practice could transform into catharsis.
Unlike traditional paintings depicting war and history where victories are attributed to military prowess, Serwan Baran's soldiers and generals are weak, victims with deformed faces, bodies in distress or mutilated. The general, loosely based on the legend of Ibn Ziyad, the conqueror who supposedly burned his ships to prevent anyone from turning back and galvanizing the troops, seems to have escaped in a fragile boat before drowning, whereas the soldiers in The Last Meal, seen from a distance due to the painting's perspective, appear just as vulnerable.
But this does not make the pieces any less spectacular, on the contrary. Their brutality echoes how contemporary warfare has now weaponized the spectacle, turning it into a tactical advantage. The American and Coalition invasion of Iraq in 2003 indeed relied on a demonstrative use of spectacular force meant to intimidate the opponent but also international opinion. While Arab and Muslim media focused on the destruction and suffering caused by this military armada, American television continuously showcased the avant-garde technology behind this equipment. A study conducted by the independent press research organization Project for Excellence in Journalism showed that during the first 40 hours of war coverage by the American stations ABC, CBS, NBC, CNN and Fox , half of the reports illustrated combat actions but none of them showed any actual images of the wounded or dead.
Media does not allow one to observe war, it only offers a fragmented vision of it based on their own bias, and this erroneous construction of reality and obliteration of bodies is precisely what Serwan Baran is trying to combat.
Which is why his approach lies opposite of patriotic military propaganda—be it Iraqi or American—in which the word 'fatherland' operates on behalf of demagoguery. Fatherland crystallizes this stance, both by adopting an ironic title that criticizes patriotic campaigns, and by denouncing and condemning the barbarousness of war, much like painters Francisco de Goya (Les désastres de la guerre, 1810-1820), Théodore Géricault or even Otto Dix (Der Krieg, 1924) had done before him.
Translation by Maya Dalinsky
Cover: Serwan Baran, The Last General, installation view at the Iraq Pavilion, Venice 2019.
Photography Boris Kirpotin. www.kirpotin.gr © Serwan Baran / Ruya Foundation
[wp-faq-schema accordion="1"]
Do you want to react?
[wpforms id="17437"]