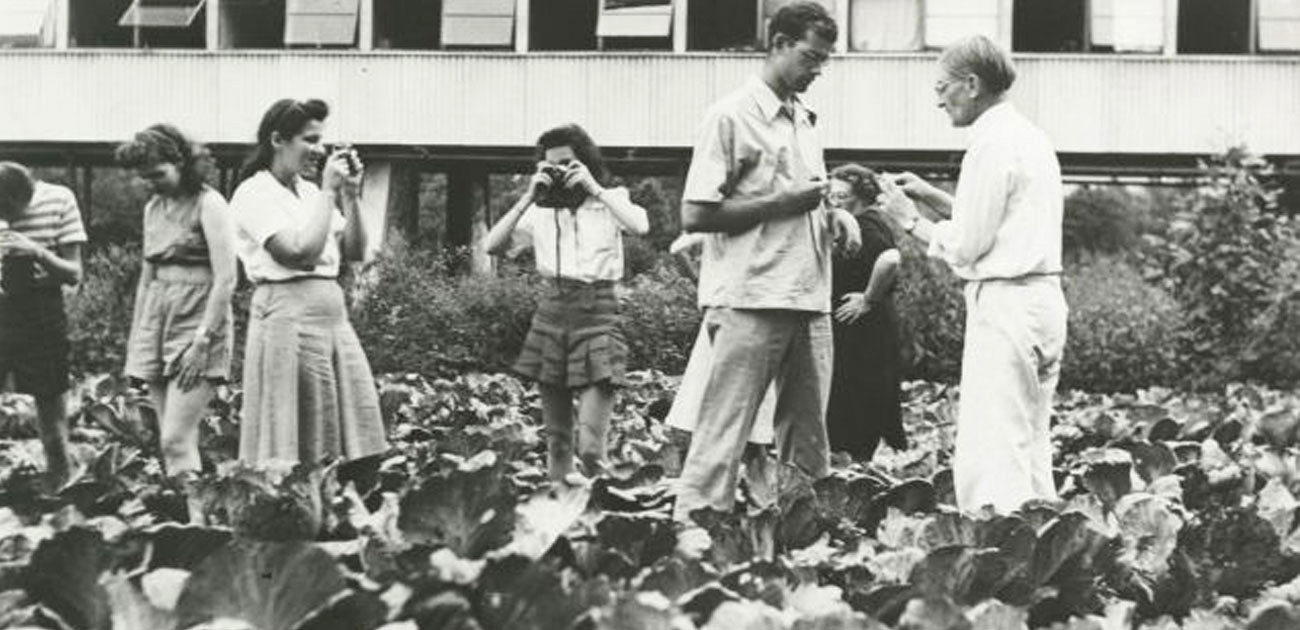 Art schools, like other universities, have closed across Europe, forced to carry on through distance learning. With the cancellation of studio practice, art history and theory have tried to fill the void. But neither good intentions nor improved digital tools have made it possible for exchanges to flow smoothly. Two authors and teachers, Hélène Giannecchini and Nina Leger, point out the limits of virtual learning, calling for "a right to inventory and a duty to invent" that might benefit arts education.
Everything came to a halt and we were overwhelmed by a sense of urgency. As soon as the lockdown began, as we learned that the art schools where we taught would stay closed for several weeks, perhaps longer, we quickly organized online meetings, wrote emails and designed classes for our students. We were way ahead of that famous educational continuity — which the ministers ordered us to provide without offering proper assistance — in a fever that combined our desire to care for those we teach and, let's be honest, a newfound anxiety at the idea of a pandemic. We wanted to be there for our students, to not abandon them, especially since we knew that some were going to go through the confinement under extremely precarious conditions (small spaces, financial difficulties, psychological distress, a forced break while in mid-creation etc.). Since we teach art history and theory, we were aware that our disciplines lent themselves better than others to digital de-materialization: pushing us to get involved.
We continued certain classes by adapting them, but we also had to acknowledge this new situation by making new forms. So we created an interactive map, an inventory of lectures, interviews, shows, journals or exhibits accessible for free online. Even though we do not teach in the same schools, we immediately began to collaborate, joining skills and launching a call on Twitter and Facebook to collect recommendations from friends and strangers. We then exchanged with professors and librarians across several art schools, because we are convinced that this crisis calls for new workspaces to open up. The teams and institutional affiliations must expand to include broader and more unexpected elective and intellectual affinities. Our map is a model of a territory, it formulates a potential that students must seize and actualize in the pursuit of their own specific interests or as they coast along chance discoveries. The map is a shared resource that only actually exists in the singular interpretations of each user.
Ever since schools closed, we have thrown ourselves into digital tools with unprecedented energy. They always had a role to play in our teaching, but we used them with a kind of customary indifference. This time, we wanted to find the best possible platform for exchange, the most efficient co-working tool, the ultimate application for giving online classes. Zoom, Discord, Meet, Skype, WhatsApp, Coggle, Youtube, etc.: we created accounts, learned to navigate new interfaces and multiply our offers. And we will continue to use some of these tools. This said, while we were at first seduced by their promise, their practical limits soon became apparent, which raised questions we had not always anticipated.
Like our secondary school counterparts, we came face to face with the rupture in equality brought on by distance learning. Not all our students have the same resources to make use of the content we developed for them—sometimes they have no Internet connection, sometimes no computer. Others lack the skills or possibility to concentrate at a screen for extended periods of time; and if you believe that this physical discipline is just a question of will-power, you are denying that it is a matter of one's socioeconomic background, which depends on certain material conditions such as space and calm, to which not everyone has access. Other questions ensue: What do we give away to the platforms that host our work? How do the students make our propositions their own, and how can we stay in touch with those who have the hardest time or no longer respond? How does our teaching interact with the hands-on practice that makes up the core of their education when this very practice is, for the most part, prevented? It is impossible to name all the problems here, and even less so to find their solutions. So we will have to expound on just two of them, which we judge to be the most determinant.
First, we wonder what gets lost when classes conceived for a specific time and place, for a shared time and place, are translated to the digital realm.
Over and over again, we've seen ourselves talking alone, amused, embarrassed, sometimes discouraged, headphones on our ears, facing the computer. We prepared classes, worked in a few jokes for an invisible audience and attempted to vary the rhythm and tone in order to retain a hypothetical attention, since we have no way of really sensing it. We rather quickly realized that we missed our students.
Our educational methods and convictions are based on presence. A class, no matter how magisterial, exists in the possibility—and expectation—that the words spoken will bounce back, that our classes use them, craft them, shift them for us and allow us to discover something unexpected in what we have built. When students take us to the limits of our knowledge and we must answer "I don't know," then teaching becomes active research, and it is fascinating. Without all this, without these interventions and the students' reactions, which sometimes come down to just a gesture, a rumor, an attitude that we somehow identify and interpret, the class is no longer really a class, because it cannot be modified, bent; it becomes one long soliloquy. Of course, the distance does not make every exchange impossible, and many platforms enable us to converse with our students. But a certain flexibility of thought gets lost, like the joy of exchange without interference, one not only made of phrases but also of silences, intonations and expressions that are sometimes imperceptible.
The risk is that these solutions, utilized in response to a crisis context and destined to disappear along with it, linger and, despite us, outline the future of teaching. The risk is that these temporary continuities extend to art school and reinforce certain dynamics already well entrenched in some branches of higher education, where face-to-face is actually just an alternative to distance learning. In these cases, content all too often takes priority over how it is transmitted, and cares little for how it is received. Information is acquired or not, and in between there is no space left for feeling around and interpretation, which we believe are fundamental to all learning.
Today, we re-examine our reflexes in the early stages of confinement retrospectively. When emergency becomes a state, how relevant is the imperative to maintain continuity? We are going through an entirely new situation in our lives, one with rare precedence in our Histories but our education must, at all costs, continue. But continue what, exactly, and where to, and until when? Part of the world has come to a halt now. To continue our classes unchanged is akin to denial. We consider our profession to be more than discussing dates and concepts; we help build critical thinking, an ability to decrypt the spirit of the times. And what if in doing so, our duty as teachers was to mark the occasion, to no longer act as if it were business as usual?
Obviously it's not about stopping our activities—more than ever, we need to be there for our students—but it is up to us to modify, shift and, why not, slow down our activities. For years now the virtues of 'slow' have been theorized in pages and pages of articles and essays, but we educators should decide to just plough on through, even as things come to halt? It is a painful paradox because it reveals an immobility, an impossibility to liquidate our previous criteria for efficiency and productivity.
The question does not stop at our teaching. It must also be asked to the structures where this teaching takes place. In France, for example, art schools are based on inherited forms like the entrance exam and two diplomas—the 'Diplôme National d'Art' (DNA – National Art Diploma) and the 'Diplôme National Supérieur d'Expression Plastiques' (DNSEP)—which are simultaneously university ranks and rites of passage for our students. Since the Bologna Process was initiated in 1998, promoting the standardization of systems for higher study in Europe, our schools have had to integrate forms imported from the University: we adopt the ECTS, organize by semester and our cycles mimic college cycles. This comparability, though it enables recognition of achievement and insertion to the Erasmus system, makes us conform to models and ways of doing that often have nothing to do with the specificities of teaching art students. To question these structures… now that would be an interesting field of investigation for an art school, perhaps even for our societies: against continuity, assert a right to inventory and a duty to invent.
It would be easy rhetoric to conclude here by stating we are on the doorstep to a new world. First, because no radical change comes by simple virtue of a crisis, even a health one—the history of plagues, cholera and other epidemics are reminders of this. But also because at this hour, we are still in the world we know—with its violence and logics—firmly in place without any sign of decline. One cannot deny that new things have been invented during this epidemic, but it also holds that the weaknesses and brutal inequalities of our societies are also being revealed, and it is not a given that a better future will be drawn by itself. What comes next, if we want it to be different, does not depend on the crisis, but on us, on our commitment and our solidarity, our ability to take political action.
Translation by Maya Dalinsky
Cover picture: photography course at Black Mountain College
[wp-faq-schema accordion="1"]
Do you want to react?
[wpforms id="17437"]