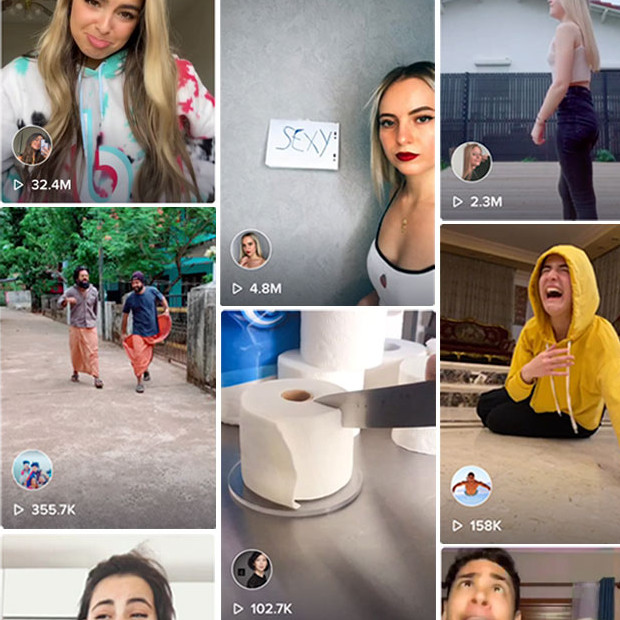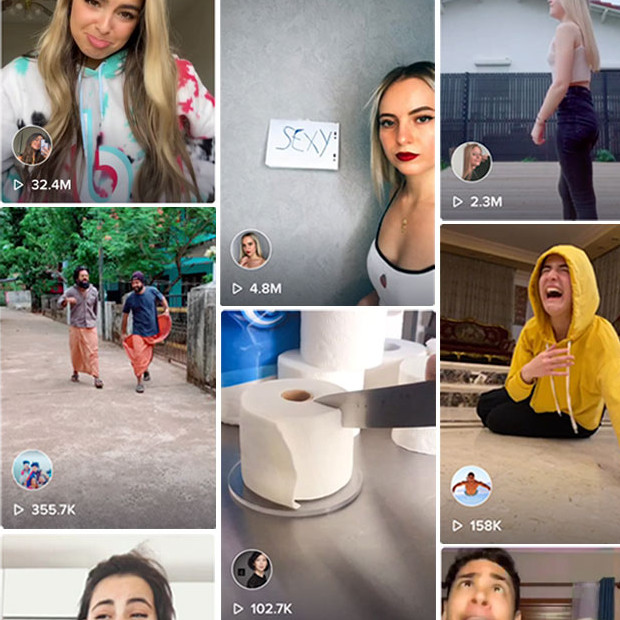 The first week of confinement saw TikTok burst into the world of adults, whereas the social media platform had previously been considered amusement for teenagers. Teens filming themselves, to go "viral" by repeating the same gestures and songs ad infinitum. What kind of politics does this aesthetic of confinement express?
[ 1 ]
"It is as reasonable to represent one kind of imprisonment by another, as it is to represent anything that really exists by that which exists not." Epigraph to The Plague by Camus, borrowed from Defoe'sRobinson Crusoe.
A guy in sunglasses and a baseball cap snaps a picture from an airplane window. We hear a little "meow". The camera looks up to show a cat in the overhead bin. We realize that the guy is actually at home, in front of the glass door to his washing machine, where he's stuck an iPad with a picture of the sky.
After a gentle pan that leaves behind a back and a stone parapet, the camera follows some very long fish in a river that seem to have antennae or hairs floating on the water. The music, which we've heard a thousand times before, is like a soundtrack for a relaxation tutorial. The captions are in Japanese.
Then there's a Latin-sounding hit, "kurikitakate, kurikitakata", also playing for the three-thousandth time. A young woman with her back to us, wearing a flowered dress in the middle of a field, begins to perform a kind of choreography with her arms for a small herd of cows. When she starts to move toward them, dancing, the cows run away.
A boy acts out the dialogue of a sketch, playing both roles in shot-counter shot. On the wall hang soccer photos and a French flag. A sticker overlay reads "Some Muslims". Then comes a post-synchronized dialogue in English, with French subtitles: "Do you drink alcohol? – Yes. – You smoke (holds up a huge, fake joint)? – Yes! – But you don't eat pork? –AstahrfAllah, I'm a Muslim!" For this last reply, the young actor has taken off his hooded sweatshirt and now dons "traditional" Maghreb dress, with a colorful shawl draped over his shoulder in lieu of a prayer rug.
Welcome to TikTok. To obtain the sample described above, you had to cheat a little: get an anonymous phone, not set up an account, never or hardly ever use the app. No need for further comment on the sample described above: the art of trompe l'oeil, the regular bio- and phytophilia, burlesque. The first three videos you come across could inspire a re-write of Baudelaire's The Modern Public and Photography: "It is a happiness to wonder." As for the dialogue, it's not really about knowing the author's intention: reading the comments, you realize the sketch could be interpreted as a satire on devotees, a call to order, an insult to religion, a form of self-deprecation addressed to Muslims, etc. It is an art sociologist's dream: TikTok provides hundreds of statements on how these works are received—albeit by a rather homogenous public.
On your other, personal smartphone, you scroll through videos of an entirely different nature: you have an account, you regularly go on TikTok. In just a couple of hours, the algorithm has quickly ascertained what you're actually interested in: boys without their shirts on/girls in bikinis and cats/cars. That's all there is on your feed, which is logically entitled "For You". Try as you may to search the terms "art", "kunst", "design", the machine knows you (it has been analyzing how much time you spend on each video, if you watched one repeatedly, if you visited the author's account) and will only suggest more of the same, in a loop. You can even try subscribing to overweight people that make metaphysical jokes, it won't matter. At one point, you see yourself in one of the videos: a teenager making fun of old folks who ogle their young bodies as they work out. You have become a meme. TikTok's primary virtue: it helps shave off years of introspection. It holds a raw mirror up to your intellectual misery. Baudelaire: "…our squalid society rushed, Narcissus to a man, to gaze at its trivial image on a scrap of metal."
The dream of art for the people
From an aesthetic point of view, TikTok, still relatively ad-free, is achieving the dream of art for the people. Everybody has one minute to make a short video of their choice. Because watching without posting your own "content" goes against principle of exchange that rules on social media. And the principle behind TikTok itself: propagate the meme, that is, pass the baton. It's about re-using the same song, the same dialogue, forgetting where it came from and reinterpreting that one bit, improving it and becoming its ventriloquist (everything is lip-synched), like you might imagine ancient lyric poets once enriched the Iliad or the Odyssey — or at least it's nice to think of it that way. Plus, TikTok is not void of self-insight (the cardinal virtue of modernity, as we all know), because as the kingdom of meme, it doesn't fall for its own identitarianism. This said, it's surprising that so few artists have made use of it the way they have other media. There's been an art of magnetic recording (musique concrète), video art, etc., which have all subjected the medium to a torture test. Nothing of the sort for Instagram and others. On the other hand, there exists a kind of digital art, in Ian Cheng, Meriem Bennani or Bertrand Dezoteux's works for example, that touches on the limits of artificial intelligence and attempts to discern, as Dezoteux puts it, "what world, what ideology, what political system" could create programming that only answers to itself.
Does the fact that we're talking about videos gone viral illuminate the crisis we're in? What's true is that the young users of social media have, on the whole, reacted better to the propagation of fake news in the early stages of confinement than our more serious and rational friends. We've seen colleagues in their 40s and 50s, people with advanced degrees, peddling images or false information as if they experienced it first-hand. At the same time, the teens on TikTok—or at least some of them—compete in creativity and leave behind the realm of imitation to create a mise-en-scène of the newest obstacles to reality. As if they were immunized against memes and other clickbait, which they have mastered perfectly, unlike adults.
The actors in this hyper-connected world vision have willingly erased their outside lives. It is, one might suppose, an effect of the medium: in their 9:16 format, like a television turned onto its shortest side, these Instagram or TikTok stories produce slice-shaped images. As if there were nothing but an immense off-screen, threatening, devouring. Because it is invisible. The characters all resemble Klaus Kinski twisting around Herzog's camera to appear as Aguirre. A method that is apparently even called "Kinski screw": it lets you surge out of nowhere. In this sense, social media is duly recording the disappearance of windows in favor of screens. Which is rather congruent with the current situation: as we can no longer go "outside", we have the feeling of being nowhere, including and above all while at home. As Emanuele Coccia recalls in a Le Monde interview about the lockdown, "home is a space inside which a group of objects and individuals without freedom live in dedication to the production of utility." And as such, it is "the exact opposite of politics."
The heroes gesticulating on our smartphones seem to live inside them. Unable to grasp what is off-frame, they are no good at documentary, neither are they good at fiction, as they are incapable of representing anything "that really exists by that which exists not"1. What they are certainly most like are video game avatars. In first-person games, whatever is not in the frame is always fleeting: it generates itself only as the player moves forward and disappears once the player has passed. That's one way to think of contemporary existence. Between the four walls of their rooms and our screens, the characters on TikTok cannot really go for broke. Which is actually a good thing: they aspire to a form of minority or fluidity. But they most often do so following the discipline of the Roman domus, which contradicts the second aspiration. In a sense, TikTok is a pretty good reflection of our domestic Tamagotchi lives, with an entertaining amount of detachment.
As such, the platform begs a rather easy question: What, or who, keeps us company? And another, more urgent one: What are we being taught to do?
Translation by Maya Dalinsky
[wp-faq-schema accordion="1"]
Do you want to react?
[wpforms id="17437"]