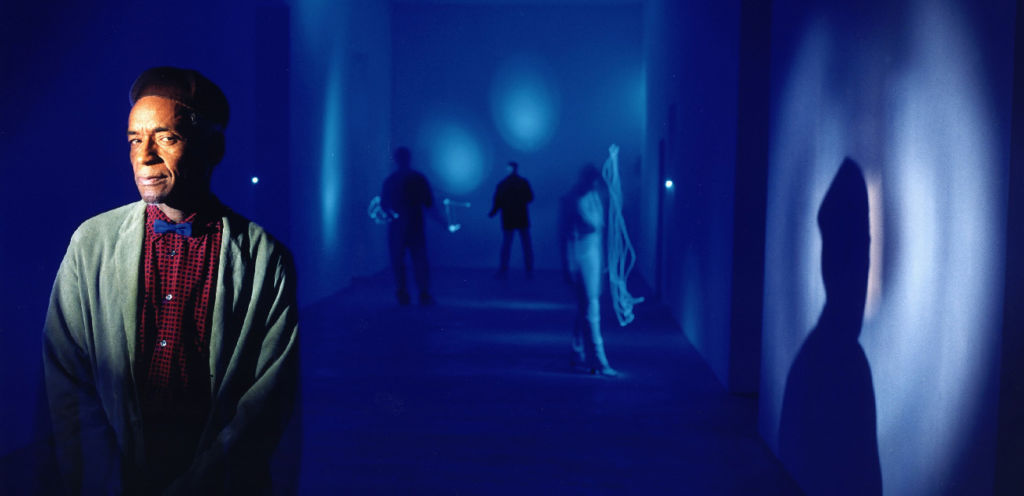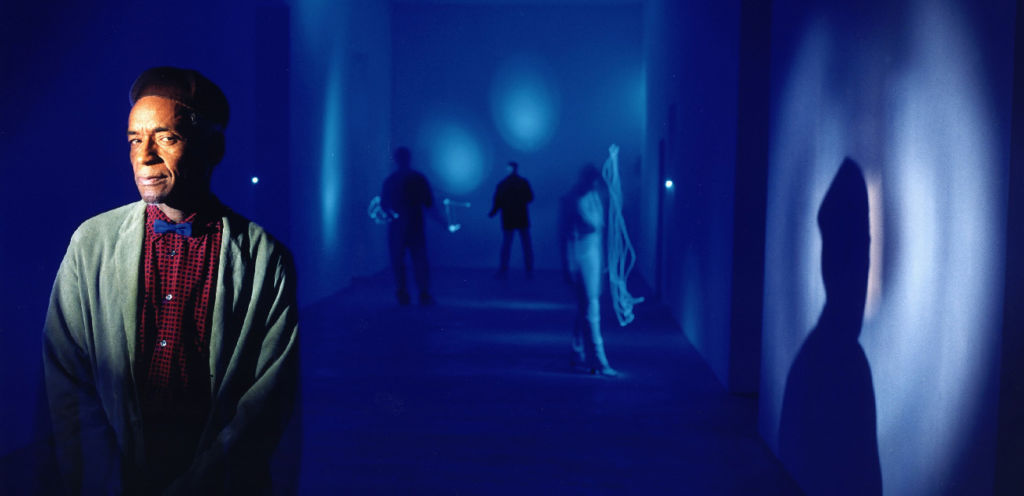 David Hammons is one of the most famous US and international artists today. For over fifty years, looking back through the history of Black emancipation, his art has explored African-American cultural and political reality using derision, provocation and spirituality. Like many avant-gardists of the 1960s, David Hammons is unremitting in his institutional critique, while also playing on the art market system. This article chooses to present the past twenty years of his work based on some of his key exhibitions in a back-and-forth between the memory of slavery and references to blues and jazz artists.
[ 1 ]
David Hammons, Bill Hutson, Al Loving, Stanley Whitney, David Henderson, Jameel Moondoc, Norman Douglas, Deidre Scott, Sur Rodney Sur, Gerald Jackson, Steve Cannon, Matthew Debord, Okwui Enwezor, « African American Artists on Issues of Museums and Representation of African American Art », Nka: Journal of Contemporary African Art, n° 2, printemps/été 1995, p. 34-41. Sauf mention contraire, toutes les traductions sont de l'autrice.
[ 2 ]
Steve Cannon, né en 1935, est mort en juillet 2019 à New York. Il était le fondateur de l'espace d'art alternatif et de la revue, The Gathering of the Tribes. Il était un grand ami de David Hammons qui l'avait rencontré à son arrivée à New York en 1974.
[ 3 ]
Nka: Journal of Contemporary African Art, Op. Cit., p. 39.
[ 5 ]
Glenn Ligon, « David Hammons and the poetics of emptiness », Artforum, VOL. 43, n°1, septembre 2004, p. 246.
[ 6 ]
Leroi Jones, Le Peuple du blues [1963](Folio, Gallimard, Paris, 1997), p. 53.
[ 9 ]
Colson Whitehead, Underground Railroad [2016]( Albin Michel, Paris, 2017), p. 94-95.
[ 11 ]
Voir au sujet du « nouveau MoMA », les articles de Helen Molesworth « The Kids Are Always Right » et de Kerry James Marshall « Close Encounters », dans Artforum, VOL. 58, n° 5, janvier 2020, p. 142-149 et p. 150-151.
[ 12 ]
Ralph Ellisson, Homme invisible, pour qui chantes-tu ? [1952](Grasset, Paris, 1969), p. 19.
[ 15 ]
«Endless, Immeasurable, Eternal, Impossible ». Sun Ra, « Anything can give up its life », The Immeasurable Equation, The Collected Poetry and Prose (Éditeurs : James L. Wolf, Harmut Geerken) (Waitawhile Books, Nordenstedt, 2005), p. 71. En 1985, David Hammons a invité Sun Ra & the Solar Arkestra à performer devant son Delta Spirit House, cabane réalisée à l'occasion de l'événement new-yorkais Art on the Beach organisé par Creative Time, Inc.
In a 1995 conversation initiated by Okwui Enwezor for the second issue of Nka: Journal of Contemporary African Art1 featuring several African-American artists and thinkers, Steve Cannon2, writer, poet, and important figure in Black cultural activism in New York since the 1960s, spoke up on the purpose of writing. He asserted that it was imperative to create language that protects the artwork: "That allows entrance into that work of art so you can figure out what the hell is there!3" A language that protects and reveals at the same time, such would be the ideal form for interpreting David Hammons' artistic work, today a major artist on the international scene, who maintains himself on the margins of an art world he has always decried, while playing with it like an agile magician. In this conversation, which also included Hammons, the artist insists to his colleagues: "One issue with every artist that's very basic, is that an artist has to create his own venue to promote himself. If we don't create our own situations to produce our own personal self and wait for a megastructure to produce us, we're going to sit by the window with the candle on. Until artists present the package to promote themselves through, like a writer, a poet, who writes a poem and then has to create a book. And then you have to create the vehicle to promote yourself through. I think that should be done individually and not wait for some other structure to do that out there. That's very basic. It's an ABC approach. But artists are so arrogant that they want to be promoted by that structure that exists, as opposed to creating their own. There are trillions of ways to promote oneself, but that's outside of the structure.4" Twenty-five years later his attitude remains unchanged, but he has been so successful at self-promotion that today his works are beacons on the market, and his productions, which he distils as he pleases, fetch prices upward of several millions dollars. His method is to only create exhibits if he can do exactly what he wants in the spaces that invite him. He imposes the same conditions every time: not having to present the project beforehand, total unconditional freedom, and receiving a considerable part of the remuneration prior to communicating his ideas. For the last two decades, mainly private galleries have been able to meet these conditions. Exposing this way of proceeding allows us to understand how restricting information, selecting who is invited and refusing to compromise have made David Hammons an artist that institutions dream of inviting, all while realizing, paradoxically, that any such hope is illusory. And yet, if he chooses to remain elusive, it is not out of a fickle desire to counteract the market, but for reasons related to artistic integrity that date back to the early 1970s. At that time he was creating body prints, similar to Yves Klein's Anthropometries. They were a response to the political and social state of the African-American struggle, often depicting the Black body as obstructed (Injustice Case, 1970) or subjected to racist acts (Spade, 1972). But as soon as these works elicited the growing interest of collectors and began to sell, David Hammons stopped making them. To rid oneself of servitude forever, that is one of the artist's maxims. His fierce, trademark autonomy is not unrelated to a survival instinct tied to a history that goes back to the slavery era.
A distant memory
This history is transmitted through narratives punctuated by trans-generational ghosts and cited by African-American artists, poets and intellectuals. Through them, the transatlantic crossing of their captive ancestors in slave ships, the reminiscence of African cosmogonies and survival on plantations is preserved, as is the memory of one of humanity's greatest acts of violence. Slave accounts that are also, in the United States, the stories of Frederick Douglass, Sojourner Truth, Harriet Jacobs, Harriet Tubman – former fugitive slaves whose writings became landmarks in the abolitionist movements. Their experiences show so clearly how much the notion of freedom depends on the physical and psychological adversity from which one must emancipate oneself. David Hammons has always sought to keep this connection to history alive. He creates to restore a distant memory, referring to the musical, poetical and allegorical sources that depict ancestral beliefs, like the meteorites that would have crossed celestial space for several centuries. One phrase by the artist, quoted by Glenn Ligon in an article about him, explains it all: "I'M NOT interested in who I am. I'm just a force on the planet who plays with these things and has no identity and no personality.5"
From studying the last twenty-five years of his oeuvre, one could opt for this daring hypothesis: the large sums of money he makes from selling his artworks not only contribute to his personal wealth (he actually often spends much of this money on supporting African-American artists, particularly from the younger generation), but also to buying back the souls of those who were exploited, beaten, dehumanized, raped, and killed over the past four hundred years. It serves as symbolic revenge. Following this logic, the money would have no other value for Hammons than that of finally appeasing the African spirits still haunting the numerous sites where broken destinies, incommensurable injustices, and unnamable cruelties occurred. The history of slavery did not stop at abolition, it continued to find expression through the specificities of segregation, racism, lynching, and the social, cultural, political and police repressions of the 20th and 21st centuries. Born in Springfield, Illinois, Hammons himself is the product of a segregated environment. He was active in the national Black Art movement in the 1960s, and was 20 years old when he arrived in Los Angeles in 1963. The Civil Rights Movement had already begun eight years earlier in Alabama; 1963 was also the year of the March on Washington where Martin Luther King Jr. delivered his famous "I Have a Dream" speech at the Lincoln Memorial. The riots in Watts, a Los Angeles neighborhood, broke out in 1965, six months after the assassination of Malcolm X. The violence and discrimination that the African-American community had to endure in its pursuit of liberty carried on. Whether addressed through a pacifist ideal (Martin Luther King Jr.) or a call for self-defense (Malcolm X), these struggles and their repression left lasting marks on people's consciences, and every artwork created in this context calls for us to take a hard look at how such a long-winded history is still in progress.
The blues is undoubtedly one of the most apt forms in materializing the interwovenness of work, political conditions and artistic creation. In re-reading LeRoi Jones' famous Blues People, published in 1963, one truly grasps the historical impact of inventing a singing and musical style rooted in the daily labor of slaves. Invoking the longevity of elements that crossed the Atlantic, Jones defines improvisation as a defining characteristic of the blues: "And improvisation, another major facet of African music, is certainly one of the strongest survivals in American Negro music. The very character of the first work songs suggests that they were largely improvised. And, of course, the very structure of jazz is the melodic statement with an arbitrary number of improvised answers or comments on the initial theme.6" Improvisation, like the blues, is at the heart of Hammons' creative process.

The abstract truth
In 1997, David Hammons exhibits at Kunsthalle Bern: the entire space is bathed in blue light; the installation is a parcours with occasional interventions by the artist. Every gallery is inundated in blue, and spectators move from one room to the next to the music of John Coltrane, Charlie Parker and Muddy Waters. Blue and blues temper the exhibit, whose original title was meant to be Kind of Blue, in reference to the world-famous album by Miles Davis released in 1959, but David Hammons finally opted for Blues and the Abstract Truth, quoting the no-less famous composition by Oliver Nelson from 1961 (The Blues and the Abstract Truth). A full drum kit is on display; the instrument seems to be waiting for someone to use it. On the tom rests a stuffed tabby cat. The taxidermy animal, immobile, seems suspended to the silence of percussions and metallic clang of cymbals. Flooded in blue, these elements turn the blues into a mental acoustics, guiding the shift from visible to audible. Abstraction in Hammons' work is as much dematerialized space (he comes from a generation of artists that had concise knowledge of conceptual art) as a philosophical reference to emptiness, where "light matter" is inhabited by "sound matter". Immersed in this atmosphere, a Zen state of "complete mindfulness", those who partake in the experience move by modifying their spatial and temporal perception.
Five years later, in an exhibit held in New York from November 2002 to February 2003, the artist once again evokes blues-tinged music. This time, he invites the public to discover it on their own, in the gigantic space of Ace Gallery, by way of small flashlights whose blue lights flicker like fireflies in the darkness. The entire gallery is completely dark; only weak blue streaks, tracing the movements of those who carry them, guide one's steps and eyes. Entitled Concerto in Black and Blue, the exhibit once again pays homage to the blues and the color blue, recounting both African-American spirituality as much as the hue of their skin, the blue-blackness of an epidermis that has not yet encountered white cultures, a "pre-colonial" hue. The exhibit marks an important date in Hammons' timeline. It is a culmination of desires in an artist for whom representing space (in this case, the gallery space) passes through abstraction, even disappearance. Although the press runs numerous reviews, one of the main ones, particularly full of imagery, comes from the above-quoted Steve Cannon, friend of David Hammons' since the 1970s. The poet lost his ability to see in 1989, but speaks of the exhibition as if he experienced it visually. He has an immediate grasp of light and darkness. Being blind yet seeing light through the night, such is Hammons' tribute to his friend. In an article on the exhibit for his magazine The Gathering of Tribes, Steve Cannon writes: "It is a practice [of David Hammons'], which, by eschewing art as commodity, reminds us that art, at its best, is about beauty, and contemplation, which often means that it is about nothing at all. Here the artist allows us to consider beauty and contemplation through the use of the most basic elements: light and color. Concerto in Black and Blue gives us these basic elements through the use of the simplest tools (the flashlight, the unlit space devoid of objects), while at the same time allowing us to engage in an ancient ritual.7" This quote from Cannon helps to keep several important ideas in mind that extend beyond Concerto in Black and Blue and sum up the perseverance and contrast of certain priorities in Hammons' work: the refusal of commercial art, "beauty and contemplation" emptied of their meaning, "light and color" as sacred ancestral materials. David Hammons' exhibit in New York symbolizes an entire nocturnal imagination with the power to create mental images while resonating with the deaf sounds of a concerto.
A black and starry night
In a recent speech entitled Le Conteur, la nuit et le panier (The Storyteller, the Night and the Basket), writer Patrick Chamoiseau recalls the importance of night, the way it allows poetic, inhabited stories to come forth. When speaking of writing, he refers to the Creole storyteller that represents, for him, the one through whom writing becomes possible, through whom words and stories are conveyed, turning the imagination into a place where spirits appear. But all this can only exist in the darkness of the night. "To take flight, the conteur needs nighttime to undo himself of dominated space and times. Night envelops the plantation. Night undoes the order of the world. In the night, the master's order fades away. There are only shadows. They erase the great house. They erase the farmhouse. They erase the tools. All is black around him. He does not even see the master anymore, or if so, only in passing, crouched in a corner. Only the flames light up the corpse next to which he stands. They also light, with their trembling embers, the muted cries of listening faces. Thus the importance of night. On the plantation, lying before an existential catastrophe, it acts as the beginning of an aesthetic catastrophe that succeeds in emptying the page just before creation.8" This junction between "existential catastrophe" and "aesthetic catastrophe" is at the heart of David Hammons' practice. The catastrophe is the irreversible chaos caused by slavery, but that produced the power of storytelling in artists and poets, the history that is retold and attaches death to life, past to present. More than a skin color, blackness is also the cloak of night under which slaves escaped by fading into the darkness.
The passages used by slaves attempting to flee north from the southern United States were dubbed the Underground Railroad, a clandestine set of 'tracks' initiated primarily by Harriet Tubman. Using the network she established with accomplices between 1850-1860, she made nearly two-dozen journeys to guide hundreds of slaves to freedom. Trains appear as a symbol in David Hammons' work as early as his Chasing the Blue Train installation from 1989. To the sound of John Coltrane's music, a small electric blue train snakes through a landscape built out of a pile of coal and the backs of grand pianos made into mountains (coal and train also phonetically reconstitute the jazz composer's name). In his novel The Underground Railroad (2016), writer Colson Whitehead provides a beautiful image of this railroad by imagining it truly riding underground through a world dug out by those who dared to break their chains and escape. His main character Cora, who decides to flee, describes the inverted perspective between earth and sky, between the cotton fields of a thousand white buds and the starry constellations she uses in comparison. "She thought of the picking, how it raced down the furrows at harvest, the African bodies working as one, as fast as their strength permitted. The vast fields burst with hundreds of thousands of white bolls, strung like stars in the sky on the clearest of clear nights. When the slaves finished, they had stripped the fields of their color. It was a magnificent operation, from seed to bale, but not one of them could be prideful of their labor. It had been stolen from them. Bled from them. The tunnel, the tracks, the desperate souls who found salvation in the coordination of its stations and timetables – this was a marvel to be proud of.9" This mirror effect between the starry sky and the cotton field, beyond its poetic effect, also conveys the anchor points and directions needed to navigate an escape. The white flowers firmly rooted in the earth illuminate the sky. The stars are a compass you can use for orientation.
It reminds one of the walks with David Hammons through the streets of New York in the mid-1990s, gaze fixed on the sky in search of a spark to guide one's steps. Only here does one truly grasp the importance of stars to the artist, without realizing how astrology sometimes determines the proximity between certain artistic destinies, as he chose to show in 2017 in an exhibit curated for MoMA.
Face to face
In Los Angeles in the late 1960s, Hammons studied under Charles White (1918-1979) at the Otis Art Institute. White, a great painter of African-American dignity, left a deep impression on the young artist in training, who pays tribute to him as soon as he gets the chance. Prefiguring a major—and first—retrospective of White's work at MoMA in 2018, the museum acquired one of his monumental paintings, Black Pope (Sandwich Board Man) (1973). Invited by the institution to share his thoughts on how to present White's piece, Hammons pointed out that the only real way to show it would be to hang it across from a Leonardo da Vinci. And so the artist found himself curating a unique exhibit, which opened in autumn 2017, as plans concretized to pair White's painting with a Leonardo da Vinci ink drawing, Draped figure kneeling (c.1491-1494), belonging to the Queen of England. It was a warrior's path to obtain this loan, recalls Calvin Tomkins in a long portrait dedicated to David Hammons for the New Yorker, December 9, 2019 issue. And the exhibit does not end at these two artworks hanging face to face. It is most concretely activated by the presence of Vedic astrologer Chakrapani Ullal, hired by MoMA per Hammons' request, who draws the astral charts for Charles White and Leonardo da Vinci, two artists born in April, both Aries. When asked to present the charts in public, the astrologer explains more precisely that, not being an artist, he cannot draw, but he can indeed see. He also underlines the energy that emanates from the stars. In the spatial configuration arranged by David Hammons, the two ochre-tinged pieces hang on a wall painted night blue. In the visitor's brochure, as well as on the museum's website, reads the phrase: "By presenting their destinies as written in the stars, Hammons shifts our attention from the gallery to the galaxy and asks us to consider commonalities between these two artists10."


Thanks to Hammons, an institution like MoMA, that until recently tended to follow standard practices for displaying works, making little room for artists not adhering to the mainstream museum format, consented to produce an atypical project. By deconstructing the stereotypical aesthetic hierarchies between an African-American painter and an iconic Renaissance symbol, and by highlighting their artistic dexterity despite living several centuries apart, Hammons creates an unprecedented rupture in museographic presentation. Taken down from his pedestal and kneeling, literally and figuratively (since Leonardo da Vinci's subject is represented this way in the drawing, with only this part of the body visible), an image of the body in prayer position hangs face to face with the imposing figure of a Black "pope", a street preacher whose sunglasses give him the funky look of the 1970s.
Using the alignment of the planets as justification for juxtaposing Charles White and Leonardo da Vinci in this way, Hammons not only thumbs his nose at art history, he also simultaneously calls out the museum on its own responsibility. No institutional classification should judge artworks other than by what they represent (formally and conceptually); classification should exclude social, racial or sex-based discriminations, however this is not and has not always been the case. Although African-American artistic practices are now in high market demand, particularly from David Hammons, museums and critique are duty-bound to analyze aesthetic differences and similarities while taking into account the social, economic and political context at stake for artists and the risks they take on. In this encounter between Charles White and Leonardo da Vinci, Hammons imposes a new historiography all while making the exhibit a work of art in its own right. If you were to study how artworks are displayed at the new MoMA, inaugurated in autumn 2019, you may notice that making associations between artists who are a priori separate are at the heart of its current museography. In fact, presenting Pablo Picasso's Demoiselles d'Avignon (1907) and the painting American People Series # 20: Die (1967) by Faith Ringgold in the same room is not such a far cry from the symbolic gesture proposed by David Hammons11.

Rainbow
At the Hauser & Wirth gallery in Los Angeles, May 2019, an exhibit by David Hammons was inaugurated, dedicated to the great jazz saxophonist and precursor to free jazz Ornette Coleman, and even displayed two of his outfits in a kind of fetishizing of the inventor of 'harmolodics'. It was the first exhibition by David Hammons in the Californian city in 45 years. In it, he presented older pieces chosen from a select repertory of works that made him famous: his piece made with discarded kinky hair collected from Harlem barbershops, or even a transparent bowl filled with water humorously representing one of the snowballs from Blizz-aard Ball Sale (a famous performance of his from 1983), now melted. Some new works completed the presentation, notably an entire series of wrapped canvases with just a few parts showing, revealing colors and textures. In continuing with previous homages to jazz, the dedicated to Coleman was a way for Hammons to appropriate the concept of the harmolodics, a fusion of harmony and melody through improvisation, and to shift it to the domain of the visual arts. The exhibit was conceived as a mobile and ephemeral installation, ready to be taken down or packed up as quickly as it was hung. Hammons borrows this ephemeral temporality from music, bringing it into space in such a way that none of his pieces, composed out of found and assembled objects, can comfortably settle down. The Los Angeles exhibit was also an opportunity for him to recall the fragile conditions under which part of the Angelino population lives, and to call attention to an economic reality that is for the most part denied. The public enters the gallery's courtyard to be greeted by a series of tents on which the phrase "this could be u" is printed. The tents are not intended to be sold as artworks; the artist requested they be donated to homeless aid organizations once the exhibit is over. Calling out the privileged status of the potential collector just as they cross the threshold into one of the most powerful galleries on the world market, this is how Hammons formulates direct critique. Just a stone's throw away, in downtown L.A., is Skid Row, where the most disadvantaged communities, men and women whose bodies are zombified by misery and drug addiction, come out from hiding at night once the business district has emptied out. The silhouettes of these homeless people are the shadows described by Ralph Ellison in Invisible Man (1952). In his one and only novel written in the first-person singular, Ellison invokes a man rendered invisible by racism. "I am an invisible man," reads the first phrase in the prologue12. Further on he adds, "You wonder whether you aren't simply a phantom in other people's minds. Say, a figure in a nightmare which the sleeper tries with all his strength to destroy.13" In order to feel visible and alive, the protagonist illuminates the basement where he lives with 1369 light bulbs. The men and women on Skid Row have no light bulb to light them, but Hammons' tents are a sign of solidarity with their deteriorated conditions.
For fifty years, David Hammons' artistic propositions combine the imperceptible with the unpredictable. His works, as if suspended, are guided as much by intuition as by virtuosity and intelligence. Though he may be called an enigmatic artist, the mystery in which he shrouds himself is protection. In 2008, he was invited to participate in Nuit Blanche in Paris: "For my piece, I predicted that a double rainbow would appear over the city at night on 4 October. Actually, I saw a double rainbow about just two days before I met with representatives from the Fondation Cartier and the City of Paris about the project. Both agreed, but then approximately three days beforehand, the City of Paris removed my name from the exhibition. I think they cancelled it because they couldn't explain it to anyone. But how do you stop or remove a rainbow from happening?14" Following in the footsteps of one of his favorite artists, Marcel Duchamp, David Hammons summons the infrathin, asserting that the invisible or unspeakable can exist by simple virtue of furtively crosses one's mind; it has been thought, sourced in one idea and referring to another. At the intersection of animism, abstraction and dematerialization, the artist connects stories, juggles with narratives and creates an infinite conversation across the skies and centuries. Much like the works by Sun Ra, the famous afro-futurist musician and poet whom Hammons greatly admires and with whom he collaborated in 1985, the rare art of David Hammons, guided by the universe, is "endless, immeasurable, eternal, impossible.15"
Edited by Vincent Simon, translated by Angela Kent
Cover picture: David Hammons portrayed in his installation Concerto in Black and Blue at the Ace Gallery, New York, 2002 © Katharina Bosse/LAIF-REA
[wp-faq-schema accordion="1"]
Do you want to react?
[wpforms id="17437"]