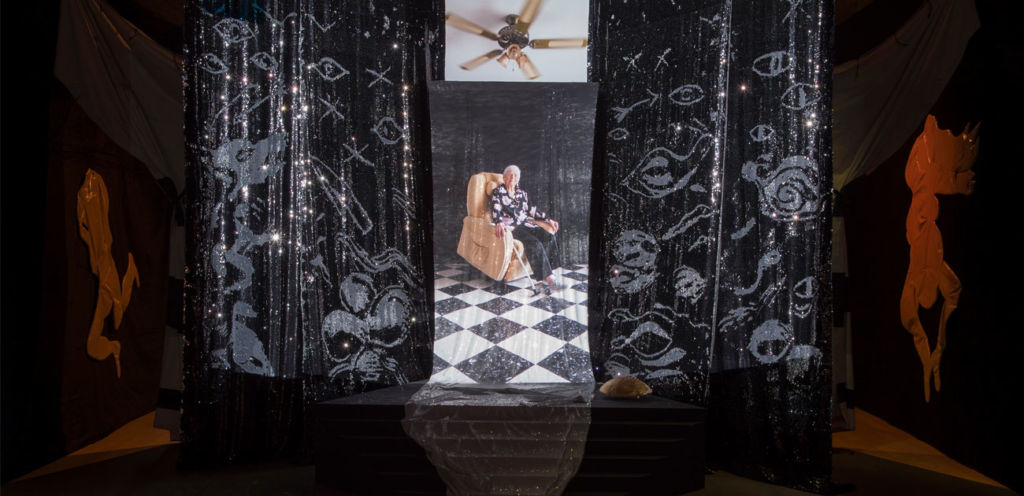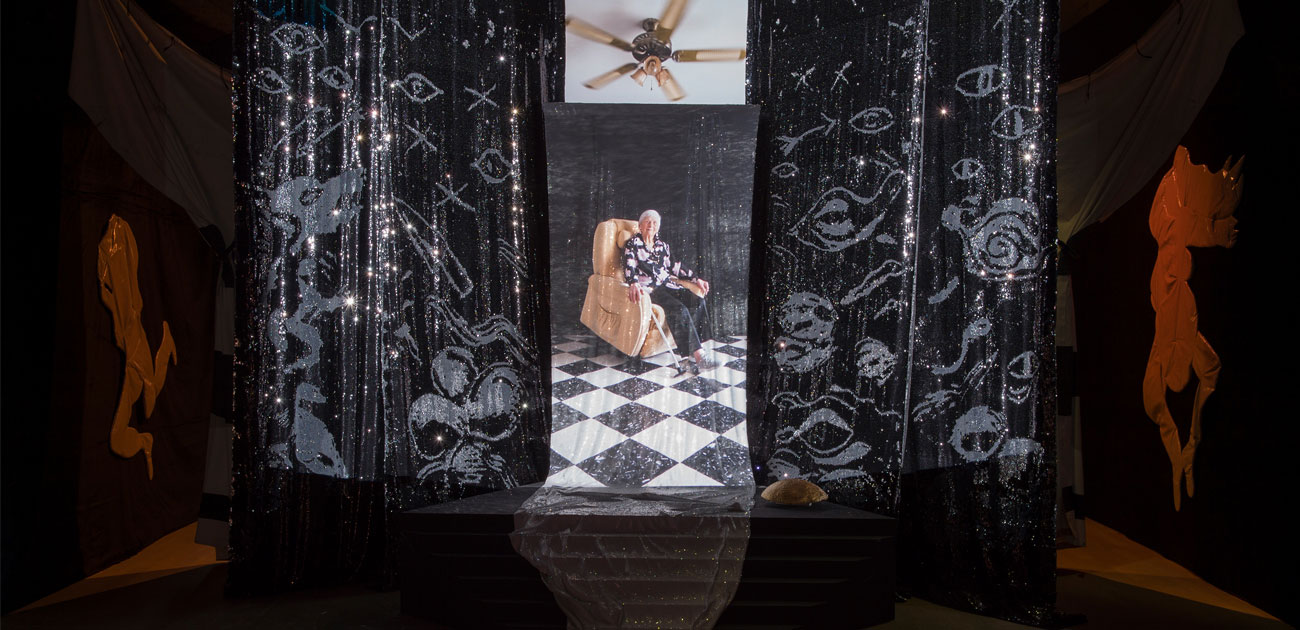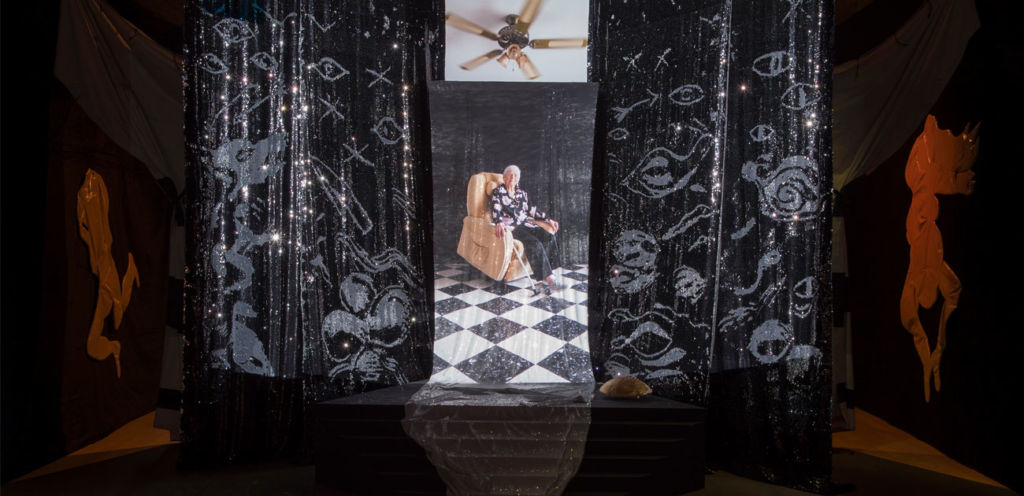 Pauline Curnier Jardin, revitalising desires Desires and Body Consciousness as Narratives
Summary
In a rural and confined atmosphere, not far from Lourdes and its grottos, Mathilde Roman's emotions mingle with the imaginary narratives of artist Pauline Curnier Jardin. We traverse a female body, intimate drives and fantasies. Bodies grow old but souls are still moved by the resurgence of desire, as a counterpart to the curbing of liberties.
[ 1 ]
Réalisée à l'occasion de la 57eme Biennale d'art de Venise, « Viva Arte Viva » (Commissaire : Christine Macel)
[ 2 ]
MONDZAIN Marie-José, Homo Spectator : Voir, faire voir, 2013, Bayard, 2013, p.319.
[ 3 ]
Preis der Nationalgalerie, Hamburger Bahnhof, Berlin, 2019.
[ 5 ]
Le deuxième sexe, éd. Gallimard, 1949, p.68.
[ 6 ]
« In this new reality, those among us who had lost love or who had not found it in time- that is, before the great mutation of COVID-19- were doomed to spend the rest of their lives totally alone. We would survive but without touch, without skin », The Losers Conspiracy, www.artforum.com, 26.03.2020.
Coincidence of the times: as I immersed myself in the work of the artist Pauline Curnier Jardin, particularly in her installation Grotta Profunda, Approfundita, the urgency of lockdown took me back to my family roots, in the Pyrenean mountains, a few kilometres from the Lourdes grotto, the artist's source of inspiration. The film Grotta Profunda features the figure of Bernadette. Wandering through the mountains, drawn by a voice and pursuing visions, she reaches a grotto that resembles a fantastic stage where religious signs vie with rites from pagan cultures and popular contemporary events. Writing in a period of lockdown encourages us to take these random paths, to think about the range of relationships between fiction and inner life. The art of Pauline Curnier Jardin is deeply inspiring at this unprecedented, collective time, when we are encouraged to look for intimate grounding in natural and supra-natural environments.
Into caves and other dark recesses
In the atmosphere of the mountains, nature follows its own rhythm and unchanging rituals. On my unlawful trips through the undergrowth, far from police controls, I feel that I am opening up, body and mind, to the rustling of a world that is alive with multiple living species and ancestral beliefs. There are the tracks of deer, wild boar, and many other murmurings, but also caves hidden in the moss and cavities etched on the surface of the walls. These natural hollows in matter, inhabited by spiders and bats, delight the imagination of the recluse. On these daily walks, where sounds and smells are an invaluable resource to restore strength, my emotions mingle with the imaginary narratives created by artist Pauline Curnier Jardin. When physical movement is restricted, the companionship of art fuels our desires, guiding us through passages transformed by intimate drives. The characters in Pauline Curnier Jardin's films experience intense inner states that allow them to transform forced isolation and social reclusion by flouting conventions and inventing very personal ways of relating, much like Modesta, the heroine of Goliarda Sapienza's The Art of Joy, a book that left a deep impression on the artist. There is a strong temptation to follow these paths.
Grotta Profunda Approfundita1 is an environment which the viewer enters through an opening in the palm of a giant hand to find themselves in an organic cavity, in which the film Grotta Profunda is screened. This intrusion into the work is literally a penetration into an organic body, reminiscent of Niki de Saint Phalle's exhibition Hon ("she" in Swedish) in 1960, installed inside a gigantic elongated female body that was discovered by penetrating through her vaginal opening. In Pauline Curnier Jardin's film, it starts with a handprint on a wall. From the very beginning of human representation, it was by placing the hand on a surface and then moving it away, separating the individual body from earthly rock, that the image appeared. The philosopher Marie-José Mondzain expresses this very well in her work Homo Spectator2, recalling through this example the distance required to allow the gaze to develop. Do we need to touch in order to believe or remove the hand in order to show? Do we need to immerse ourselves or to stand at a distance? Should we follow our impulses or return to reason? Again, in the film, a young woman wanders through the mountains in a trance-like state, and the filters on the image create a surreal atmosphere reflecting the erosion of boundaries between psychic states and external worlds. A chorus of female voices guides her on a path towards supra-natural belief, inviting her to become one with the rocks, to plunge spiritually and carnally into an osmosis with nature. When she finally enters the grotto, it is not the virgin who awaits her there, but a play on the origin of man and his animal ancestry, in a scene that is both burlesque and hallucinatory.


The work of Pauline Curnier Jardin follows obsessions, fixations, which, while focused on cinema, are deployed in its expanded forms, drawing on theatre and popular images. The aesthetics of the film combine very different registers, from melodramatic black and white, reminiscent of Carl Theodor Dreyer's famous film, The Passion of Joan of Arc (1927), to screaming, drooling superimpositions, creating a rich complexity that links pagan rites and spiritual quest. The narratives generate a range of emotions related to both mind and sensations, mixing visuals and touch and obliging us to let go of conventional narrative formats. Inside the cave, voices echo off the walls, they also resonate in the installation, where reconstituted internal organs create an enveloping body cavity. The short scenes, somewhere between advertising satire and grotesque farce, are a joyful provocation to the wise figure of Bernadette, but beyond that, they express a powerful, desiring vitality that radiates from the face of the young illuminated woman.
Liberating reversal
After three weeks of lockdown in a village of 30 inhabitants, I went out, slightly haggard, to visit my 91-year-old grandmother, who was confined at home. This collective withdrawal is a testing time for what we took for granted, our freedom of movement, as my grandmother angrily hurled back at me, but it also leads us to experiencing new sensations. We understand how artists can put themselves in situations of voluntary confinement, such as Bill Viola in 1983 in Reasons for Knocking at an Empty House, where, isolated for three days in an empty house, he tries not to fall asleep under the constant eye of a surveillance camera, thus trying to open himself up to new perceptions.
The mental potency of the works that manage to accompany us in these moments of life, like Pauline Curnier Jardin's film Qu'un sang impur, is rooted in intimate desires and joins forces with the powers of bodies. Qu'un sang impur is another installation presented by Pauline Curnier Jardin in an exhibition in 2019.3 Depending on the chosen route, the viewer can enter by penetrating through the back of a screen, in this case a long curtain, on which a film is being screened, or by passing through the staging of salvaged set elements. In both cases, viewers are confronted with a theatrical representation of the filmed image, inside an exhibition space designed as a stage, integrating soft sculptures of female bodies, taken from another of the artist's series entitled Peaux de dame. The shapes of the bodies placed on the floor, stretch out, merging with those entering the installation. In response to a commission by Bergen Assembly4 in a homage to Jean Genet, Qu'un sang impur is a loose remake of the erotic film Un chant d'amour (1950), an ode to homoeroticism, where the walls of imprisonment become the medium for sexual play. In Qu'un sang impur, it is post-menopausal women who rebel against the status that society ascribes to them. Set in a small German town, the film opens in the calm setting of private homes, public places and traditional shops. But through the interplay of meaningful glances and the fantasies of the city's elderly women, the quiet equilibrium is upset. Encounters with young men during a delivery or when placing an order at a butcher's shop trigger a desire that tips the film into a register of horror: blood flows between the legs of the women but also over the lifeless bodies of the young men. The peaceful little village becomes a crime scene and the film switches abruptly to the cells of these same women who are now imprisoned. Here, as in Genet's work, the inventiveness of the erotic games allows fantasy to free itself from the walls, traversed by bodily flows, exchanges of smoke and saliva. Masturbation is liberating, powerful, radiating aged yet highly desiring flesh. Surveillance is integrated in the erotic device, positions are reversed, with the mise en abyme of our status as voyeur.
Simone de Beauvoir's description of the menopause stage, in her famous essay The Second Sex, points out that "Woman is now delivered from the servitude imposed by her female nature, but she is not to be likened to a eunuch, for her vitality is unimpaired. And what is more, she is no longer the prey of overwhelming forces; she is herself, she and her body are one. It is sometimes said that women of a certain age constitute a 'third sex', and, in truth, while they are not males, they are no longer females. Often indeed, this release from female physiology is expressed in a health, a balance, a vigour that they lacked before."5 The same conviction is present when watching Pauline Curnier Jardin's films, where menopausal women assert a physical fullness and self-awareness that undermines the ideas of fragility and uselessness normally associated with them. In line with Simone de Beauvoir's thinking, the changeover to menopause is the time when women finally free themselves from their subordination to the species which, unlike men, makes them fragile in their bodies and moods. Desire and sensuality can seem devoid of meaning if they are merely attached to the purpose of biological reproduction. By freeing themselves from this subordination, they experience an even more explosive urgency and a new-found freedom. In Qu'un sang impur, the women desire the young men but also each other, within the confines of the prison, exploring their fantasies in a homosexual and masturbatory relationship that defies frameworks, conventions and confinement. The atmosphere is reminiscent of Rainer Werner Fassbinder's films, in particular Ali – Fear Eats the Soul (1974), which depicts the amorous, erotic relationship between a German widow and a Moroccan migrant worker, who is 20 years younger, causing numerous social and family tensions.
Power of projections and fantasies
On March 26th 2020, after a week of fever and several days of confinement, the philosopher Paul B. Preciado wrote a text in which he expressed his anguish at the loneliness that had descended on all the single people at the time. "In this new reality, those among us who had lost love or who had not found it in time- that is, before the great mutation of COVID-19- were doomed to spend the rest of their lives totally alone. We would survive but without touch, without skin."6 While Paul B. Preciado's desire is to find an epistolary framework to connect with a past love, most of the widely-shared testimonies on social networks tell of attempts to experience moments of conviviality, like meeting for coffee or an aperitif, virtually – and seduction likely has its place there. Lockdown does not silence desires, it encourages them to circulate differently, between bodies or through one's own body, as discovered in Modesta in L'art de la joie during her youth, confined to a convent. Theo Casciani also explores this in his first novel, Rétines (2019), a piece of autofiction with lengthy descriptions of Skype sessions with his girlfriend when he is in Japan and she is in Berlin. With an economy of gestures and words, he describes a relationship that is an experiment in waiting, frustrations, the unsaid, and what the eye can see through a frame, provided that one is willing to grant access to it. The experience is a journey through fantasies, an exploration of the density of images in search of sensations and emotions. Qu'un sang impur follows the same obsessions with delirious optimism, offering the women in this magnificent cast the power to live out all their fantasies.
When I left my grandmother, so distressed by the unbearable deprivation of freedom, mentally exhausted by the frustrations she was experiencing, but also worried about her fragility at this time of confined existence, I thought of Solo pour Geneviève (2018), when Pauline Curnier Jardin filmed her own grandmother. Against a backdrop of sequin fabric hung like a heavy stage curtain, and brushed with finger drawings revealing the silvery side of the sequins, we see Geneviève, sitting elegantly in her reclining chair, cane in hand, isolated in a reduced life, like so many other elderly people. The impression is heightened by the vertical framing, giving no other perspective than that of the armchair. The visit of her granddaughter and her camera inspires a moment of joyfulness when Geneviève sings away cheerfully, then reads a story in a high-pitched, theatricalized timbre, her voice resonating forcefully in the gloomy environment marked by the heavy sound of an alarm clock and a ceiling fan. The non-linear editing regularly dissociates image and sound, the body then disappearing, erased as if by magic, the artist distancing herself from the emotions. Even when she disappears from sight Geneviève remains present through her voice and the motorized movements of the empty chair, creating the sensation of a body floating in the shiny glitter. With gentleness and empathy, the artist creates the portrait of a grandmother seen from childhood projections, in homage to the ties that unite us to those who welcomed us, lulled by their imaginations, anchored in their beliefs. But she also implicitly suggests the real or expected absence of bodies that are dear to us, and their possible reappearance through the fluidity of projections, releasing an invigorating sense of optimism, so necessary to face these times.
Translation by Angela Kent
Cover: Pauline Curnier Jardin, Solo Pour Genevieve, 2018. Installation view from Fondation Ricard pour l'Art Contemporain, Parties, sans éteindre la lumière © Marc Domage. Courtesy Ellen de Bruijne Projects – VG Bildkunst
[wp-faq-schema accordion="1"]
Do you want to react?
[wpforms id="17437"]